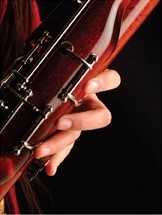 ASSOONS:
BASSOON REPAIR SERVICES
I've been playing bassoon since I was in the 8th Grade…not to say I play it exceptionally well, but it is to say that I can play test instruments and make adjustments for how it "feels" as well as how it plays.
I offer three levels of repair on bassoons:
Adjust as needed…often done while you wait. The most common problems are leaks on the open pads (the closed pads rarely need adjustment), and adjusting the combination on the low D-C-B.
Clean, oil and adjust: The instrument is taken apart and cleaned (Bassoons do not require oiling, as is done with clarinets, because the bore is lined or sealed in the wing joint and the descending section of the boot, and the outside is usually lacquered). All of the pivot points on the keys are cleaned, as well as all of the pivot rods. Pads, key corks, and tenon corks are replaced as needed.
Complete overhaul: All of the same steps as in a clean, oil and adjust, plus all pads and key corks are replaced. Tenon corks are replaced as needed. Keys are cleaned and lightly polished. Additional polishing to high gloss finish is available for additional cost.
Repair cost per hour: $80