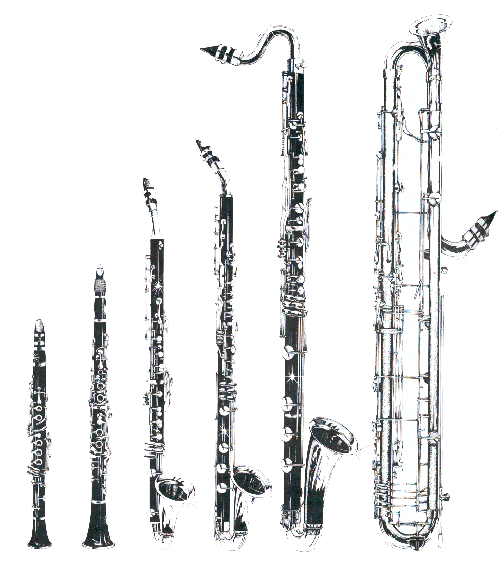 CLARINETS
Clarinet was the first woodwind I learned to play back in the 7th Grade, and Bass Clarinet has always been one of my favorite instruments! A couple of years ago a gentleman brought in his Bass Clarinet in for adjustment. Just for the fun of it he decided to bring along his Leblanc "Paperclip" style Contra Bass. He explained that he purchased it over 20 years ago, but had never been able to get it to play. I could see the instrument had been dropped and the problem was that ONE tone hole was bent. I knocked out the dent, straightened out the key, and he was able to play it for the first time since he bought it! The whole repair only took about 30 minutes.
CLARINET SERVICES:
Adjust as needed…often done while you wait.
Clean, oil and adjust: The instrument is taken apart and cleaned. That includes applying a heavy coat of oil to the inside and outside of a wooden body. When the excess oil is wiped off it cleans away any dirt and grime. All of the pivot points on the keys are cleaned, as well as all of the pivot rods. Pads, key corks, and tenon corks are replaced as needed.
Cost ranges from around $100 for a student model clarinet up to around $300 for a pro model. Other voice clarinets (Alto, Bass, etc) per estimate.
Complete overhaul: All of the same steps as in a clean, oil and adjust, plus all pads and key corks are replaced. Tenon corks are replaced as needed. Keys are cleaned and lightly polished. Additional polishing to high gloss finish is available for additional cost.
Repair cost per hour: $80
OTHER CLARINET SERVICES
The services listed for Clarinet are available for all sizes of clarinets, from Eb soprano to BBb Contra Bass. If your instrument has a metal-to-metal joint fit, that will respond to fine tuning exactly the same as a sax neck or flute headjoint (see my article on The Art of Fitting a Sax Neck).